The new technology will enable JFKIAT's operations team to monitor passenger social distancing and overcrowding throughout the terminal as part of its COVID-19 response.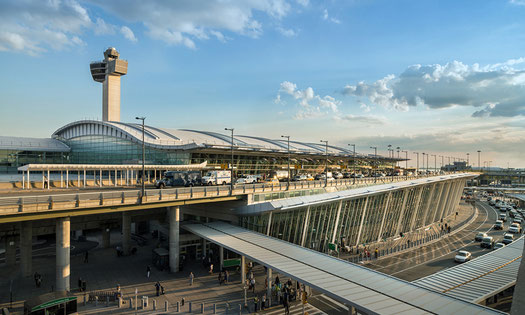 JFKIAT, the operator of Terminal 4 (T4) at John F. Kennedy International Airport (JFK), has announced the launch of camera-enabled technology with new SafeDistance capabilities; making T4 the first air terminal in North America to launch this technology.
As part of JFKIAT's COVID-19 recovery plan, the new technology – which will help to monitor social distancing from kerbside to check in and through the security checkpoint in the terminal – represents JFKIAT's latest move to implement innovative measures to maintain the safety and security of passengers and employees within the largest air terminal at JFK International Airport.
The technology, developed by CrowdVision, helps to measure a variety of metrics within T4, including the number of passengers, operational resources, queue times and more. The SafeDistance feature will help to maintain a safe and healthy terminal, providing real-time alerts on customer separation (how far apart individuals are from one another).
The implementation of the SafeDistance technology will allow JFKIAT's operations team to identify areas that are too crowded and places where people need to be dispersed or re-organised to prevent any long period of overcrowding or overexposure. Having access to the real-time data will help JFKIAT to analyse spots within the terminal that have continual crowding, giving employees the ability to make changes necessary to limit crowds and better support those customers with a smooth and safe experience.
President and CEO of JFKIAT, Roel Huinink, said: "In light of the COVID-19 pandemic, JFKIAT took immediate action to establish a new normal within T4 to ensure the safety and security of our customers and employees. At JFKIAT, we strive to integrate innovative technology to help us better serve our customers and, on the road to recovery, restoring the confidence of passengers in travel is essential. The introduction of CrowdVision will not only help us become more efficient, but will also help maintain a safe environment in the wake of COVID-19. We are pleased to implement this innovative technology as a key initiative of our COVID-19 recovery plan for T4."
As the operator of one of the world's most modern and efficient airport terminals, JFKIAT took immediate action to ensure high levels of safety within T4 from the beginning of the COVID-19 pandemic, collaborating with the Centers for Disease Control and Prevention (CDC) and government agencies, increasing and enhancing cleaning routines throughout the building and implementing safe practices for employees and passengers.
With the launch of its initiatives, JFKIAT has innovated beyond standard air terminal practices in order to look ahead to the future, seeking to address anxiety, ensure the highest level of safety practices and leverage cutting-edge technology to prepare T4 for the next normal of air travel.