The modernisation of Belgrade Airport has continued in accordance with all COVID-19 health and safety prevention measures prescribed by relevant authorities.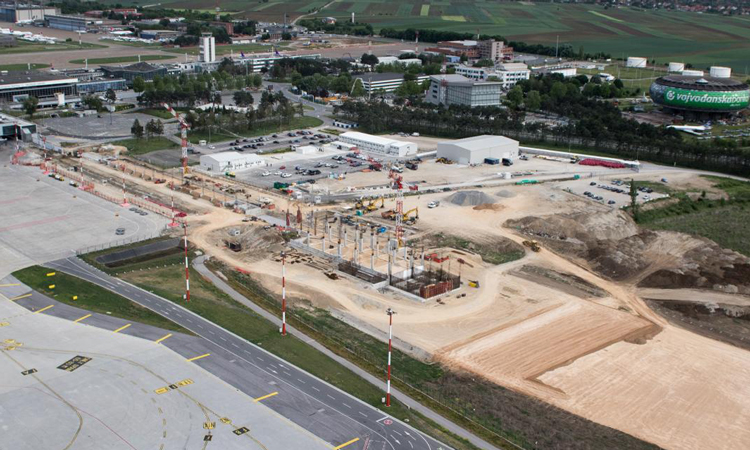 VINCI Airports has announced that the modernisation of Belgrade Nikola Tesla Airport (BEG) has been ongoing without major disruptions, even during the state of emergency as a result of the COVID-19 pandemic, in accordance with all of the recommendations and safety and health prevention measures prescribed by relevant authorities.
Together with the construction partner, VINCI Terna Construction JV and their subcontractors, Belgrade Airport has developed a specific plan to mitigate the impacts of the pandemic on the works dynamic and projected deadlines.
Francois Berisot, CEO of Belgrade Airport, said: "We expect the major works to be executed over the next three years. These include terminal expansion, inserted runway and additional taxiways construction, additional aircraft parking positions, a new de-/anti-icing pad and additional car parking spaces, as well as new access roads. Thanks to the planned capacity upgrades, the airport – which, last year, served around 6.2 million passengers – will be able to handle the projected 15 million passengers at the end of the concession period. Our aim is to significantly improve the level of service, comfort and variety of commercial offers at Belgrade Nikola Tesla Airport."
Currently, extensive works are progressing at several locations. The extension of the existing terminal building (Pier C) will improve Belgrade Airport's capacity, functionality and comfort for both passengers and airlines. Furthermore, the upgrade of the airport's aprons is also in progress, which will result in an increase of the capacity to park more aircraft simultaneously.
The estimated value of these works is approximately five billion RSD (roughly £38 million). Additionally, preparatory works for the construction of the new inserted runway began in early June 2020. All of the works have been organised to have as limited an impact on scheduled air traffic as possible, once it is restored.
The next stages of the project will include a strong focus on environmentally-friendly businesses in order to reduce the environmental impact of the airport in terms of CO2, water and waste. A new power plant will be built to produce heat and electricity, which will shift from heavy fuels to more environmentally-friendly energy sources and reduce emissions. The plan also includes a solar power plant, as well as solid waste and wastewater treatment plants.