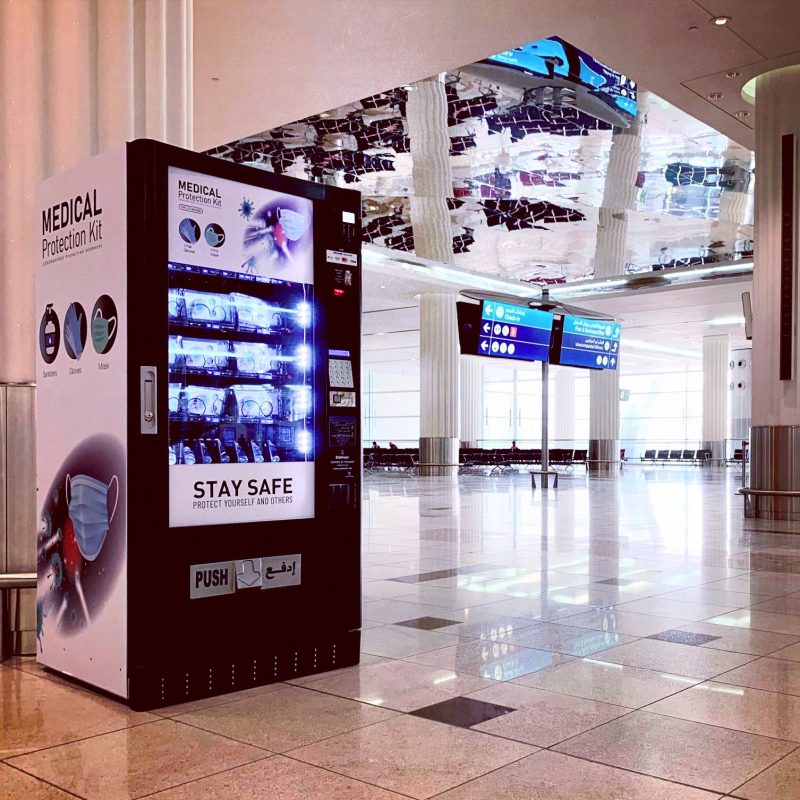 Dubai International Airport (DXB) has announced that it has installed a personal protective equipment (PPE) vending machine for travellers amid the Covid-19 pandemic.
These machines are expected to increase the accessibility of PPE for travellers and increase safety during the global health emergency. The PPE machines are installed in the departure areas of Terminal 2 and Terminal 3 at Dubai International Airport. The vending machine will provide PPE kits that contain a mask and a pair of gloves. It also offers two types of sanitisers.
In the coming days, additional products are expected to be added, such as European-made and certified reusable face masks. Khaleej Times stated that each kit costs AED6 ($1.63) while the sanitisers are worth AED9 ($2.5). From May 21, Dubai International Airport has started the operation of some scheduled passenger flights to select destinations from Terminal 3.
Previously, the airport handled only cargo and repatriation flights since the authorities suspended regular operations on 24 March. Last month, Dubai Airports outlined the measures it will implement as a part of its post-Covid-19 recovery plan. Dubai Airports CEO Paul Griffiths announced that the airport is aiming to control costs, optimise liquidity, operate cargo and repatriation flights, as well as prepare to restart operations at DXB. In April, Dubai Airports partnered with its aviation and commercial partners to provide relief measures and has also planned to gradually restart operations after the restrictions are lifted. Using a business stabilisation framework, Dubai Airports provided an assistance programme to the aviation partners, tenants and concessionaires.