Considering the delicate historical moment that humanity is experiencing due to the acclaimed health emergency from COVID-19, FLIO continues to show its proximity to its customers through a series of news, updates and useful tips for those who find themselves forced to travel for work or family needs.
What is Covid-19?
The first thing to know is that COVID-19 refers to a large family of viruses known to cause diseases ranging from the common cold to more severe respiratory problems. Due to the high contagion power, today the safety of transport and travelers is guaranteed by a complex and effective system of shared and standardized international rules continuously monitored by the authority.
Each country, especially those most involved have therefore developed travel-proof preventive measures and support public health with any restrictions in order to contain the infections. In this regard, Dr. Michelle Barron, an infectious disease expert and medical director for Infection Prevention and Control at UCHealth The University of Colorado, said that people should think carefully before embarking on a journey through this precise historical moment, especially in countries where coronavirus has already spread. Dr. Barron also advises against elderly people and people with a compromised immune system, to avoid travel in any capacity and by any means, therefore inviting them to stay in their homes.
What are the hygiene rules to adopt during your daily routine?
The World Health Organization has legislated international traffic in relation to the rise of COVID-19, highlighting that travel for tourism is not recommended and only those for proven work needs, situations of real need and health are allowed. Therefore, if you find yourself traveling in such an exclusive situation, it is good to follow some good practices for our safety and that of those around us:
Avoid close and direct contact with other people.
Avoid touching your eyes, nose or mouth with unsanitary hands.
Sanitize your hands frequently by washing them with water and soap for at least 20 seconds or using an alcohol-based hand sanitizer.
It is especially important to sanitize your hands before eating as well as after coughing, sneezing or blowing your nose.
Use disposable tissues or the bend of the elbow in case of a cough
Disinfect frequently used objects and surfaces using a normal household cleaning product.
What is the risk of contracting Covid-19 by plane?
It should be noted that – if you are in flight – thanks to the powerful and sophisticated ventilation ducts of the vehicles, the air is constantly filtered making it difficult to spread viruses and germs. However, although the risk of infection on a plane is therefore low, travelers should still try to follow the practices listed above, which are the basis of conscious prevention that we must all adopt.
How are airlines operate in these circumstances?
Most airlines and transportation companies are generally increasing and intensifying cleaning protocols. Each passenger is provided with a sanitized kit should they wish to personally sanitize seats, armrests, and tables.
Do I have to wear a mask while travelling?
It is necessary to wear a mask only if symptoms of common flu, cough or cold are present to prevent the possible spread of further viruses. If you are healthy, just follow the hygiene rules recommended by the World Health Organization.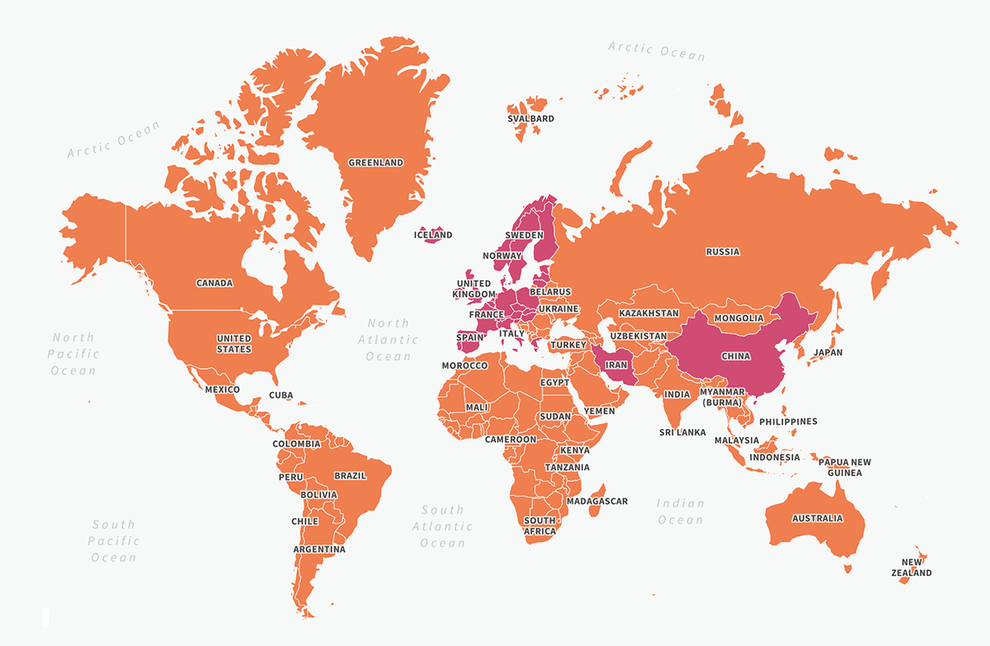 World map provided by the Centers for Disease Control and Prevention
What I have to do, if I am returning from areas affected by Covid-19
Travelers returning from areas affected by the coronavirus must self-monitor their symptoms for 14 days and follow the national protocols of the destination countries. In fact, some countries may require returning travelers to enter quarantine. If symptoms occur, such as fever, cough or breathing difficulties, travelers are advised to contact local healthcare professionals, preferably by telephone, and to inform them of their symptoms and travel history.
We at PROFI DRIVER have, therefore, wanted to update you through certified and institutional sources on what are the practices to follow for those who are forced to travel during this emergency. Our invitation is obviously to stay at home, in line with what is recommended by the main governments – and travel only for proven work and family needs. We all continue to respect and follow the main rules to return – as soon as possible – to travel freely.